LILITH MAX OF SUGAR LAND, TX RECIEVES YOUNGARTS AWARD FOR ACCOMPLISHMENTS IN VOICE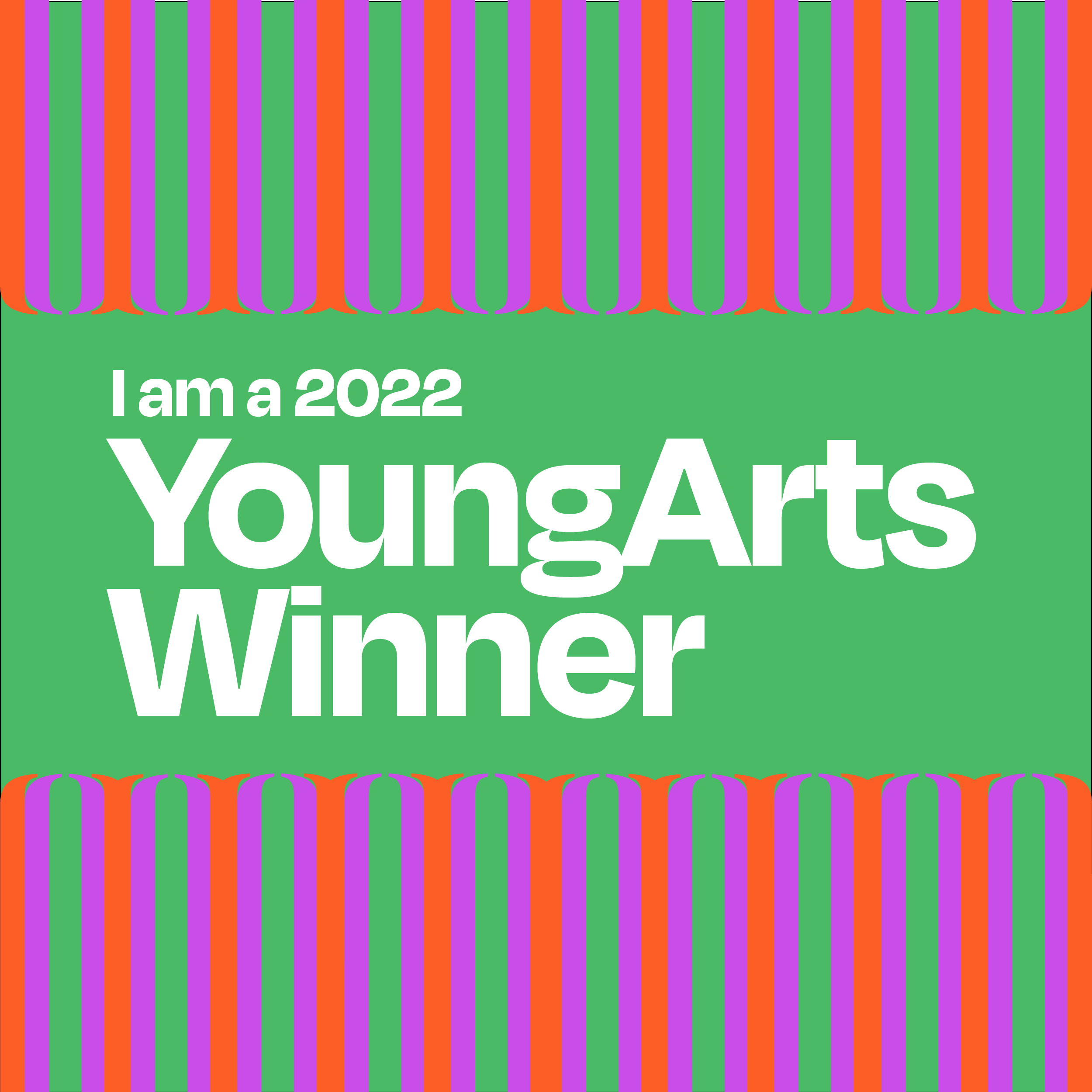 Sugar Land, TX, February 2022 – Lilith Max of Sugar Land, Texas, has received a 2022 YoungArts award in Voice. Lilith has been recognized at the Merit level, the organization's third-highest honor, for her and joins 720 of the most accomplished young visual, literary, and performing artists from throughout the country.
Selected through the organization's prestigious competition, YoungArts award winners, all 15–18 years old or in grades 10–12, are chosen for their caliber of artistic achievement by esteemed discipline-specific panels of artists through a rigorous blind adjudication process. YoungArts award winners gain access to one of the most comprehensive programs for artists in the United States, in which they will have opportunities for financial, creative, and professional development support throughout their entire careers. A complete list of the 2022 winners is available online at youngarts.org/winners.
"We are thrilled to announce this year's YoungArts award winners—an extraordinary group of promising, accomplished young artists—and congratulate each of them on this exciting milestone in their artistic careers," said Executive Director Jewel Malone. "YoungArts empowers artists to pursue a life in the arts beginning at the critical time when many are faced with decisions about life after high school. We are proud to support these young artists at the beginning of their journeys and look forward to becoming a resource for them at all stages of their careers."
Lilith Max, was awarded in the category "voice" as a singer/songwriter. Currently working on her first EP with Grammy-winning producer Billy Dorsey, she is about to release her single "Ice Age" on February 11th.
YoungArts award winners become eligible for exclusive creative and professional development support including a wide range of fellowships, residencies, and awards; microgrants and financial awards; virtual and in-person presentation opportunities in collaboration with major venues and cultural partners nationwide; and access to YoungArts Post, a free, private online platform for YoungArts artists to connect, collaborate and discover new opportunities.
As a YoungArts award winner, Lilith Max joins a distinguished group of accomplished artists such as Daniel Arsham, Terence Blanchard, Camille A. Brown, Timothée Chalamet, Viola Davis, Amanda Gorman, Judith Hill, Jennifer Koh, Tarell Alvin McCraney, Andrew Rannells, Desmond Richardson, and Hunter Schafer.
The YoungArts competition is open to artists 15-18 years old (or in grades 10 – 12). For more information about becoming a YoungArts award winner click here.
Support
Thank you to the generous donors who have contributed $40,000 or more to YoungArts programming as we celebrate YoungArts' 40th anniversary, including Aon; Micky & Madeleine Arison Family Foundation; Sarah Arison & Thomas Wilhelm; Jill Baufman & Daniel Nir; Tracey Corwin; Jeffrey Davis & Michael Miller; Natalie Diggins & Oren Michels; Givenchy; Agnes Gund; Hearst Foundations; Michi & Charles Jigarjian / 7G Foundation; John S. and James L. Knight Foundation; Richard & Amy Kohan; Leslie & Jason Kraus; Steven & Oxana Marks; Miami-Dade County Department of Cultural Affairs and the Cultural Affairs Council, the Miami-Dade County Mayor and Board of County Commissioners; Northern Trust Bank; Prada; PricewaterhouseCoopers LLP; State of Florida, Department of State, Division of Cultural Affairs and the Florida Council on Arts and Culture; Sidney and Florence Stern Family Foundation; Sandra & Tony Tamer; Bruce & Ellie Taub; and Truist Wealth.
About YoungArts
YoungArts was established in 1981 by Lin and Ted Arison to identify the most accomplished young artists in the visual, literary, and performing arts and provide them with creative and professional development opportunities throughout their careers. Entrance into this prestigious organization starts with a highly competitive application process for talented artists ages 15–18, or grades 10–12 in the United States.

For more information, visit youngarts.org, Facebook, Instagram or Twitter.
---
Lilith's Music & Social Platforms