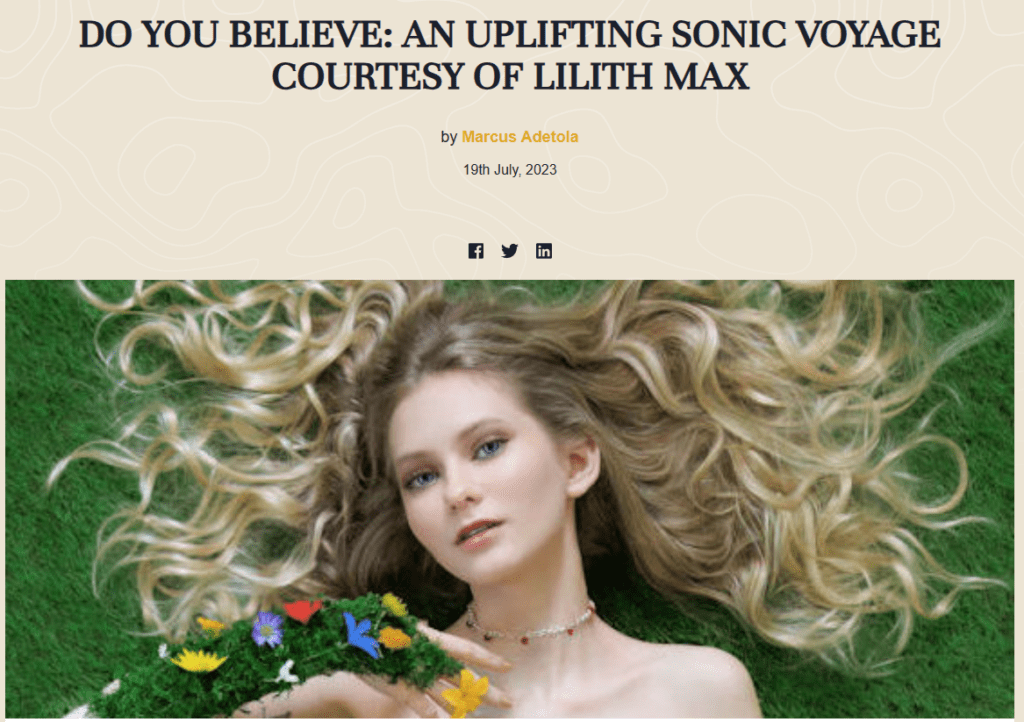 DO YOU BELIEVE: AN UPLIFTING SONIC VOYAGE COURTESY OF LILITH MAX
(https://neonmusic.co.uk/)
"There are songs that touch your heart, and then there are songs that enter your soul, making you feel truly alive. Lilith Max's latest track, Do You Believe, belongs firmly to the latter category. Through her eloquent songwriting and enchanting vocals, she invites listeners on a captivating journey, encouraging them to delve deeper into the inherent beauty of nature and the inherent goodness of humanity.
Lilith Max's enchanting vocals are the beating heart of Do You Believe. The clarity of her voice evokes a sense of serenity that perfectly complements the song's uplifting theme. Coupled with an addictive melody that will keep listeners humming long after the track ends, her voice effectively transports the audience into her world, encouraging them to seek out the beauty and goodness around them.
Lyrically, Do You Believe offers an uncomplicated but profound exploration of optimism, self-discovery, and the awe-inspiring splendour of nature. With lines like "I was trapped in the night/When she came to my side/I didn't know I was lost/Until I followed her light," Lilith Max captures the transformative power of nature and the significance of believing in the goodness of the world. …"
https://yorkcalling.co.uk/2022/12/12/ep-review-lilith-max-storybook/